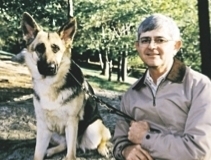 Eldin A. Leighton (CGS, LLC; Owner)

View Publications

Eldin A. Leighton was educated in the Land Grant university system studying Animal Science, first as an undergraduate at New Mexico State University (BS, 1971), then as a graduate student at Iowa State University (MS, 1973; PhD, 1979). In graduate school, his major was in Animal Breeding, with a minor in Statistics. In 1973, Leighton's education was interrupted while he completed a 3-year tour of duty in the US Army, assigned as Research Geneticist to the Division of Bio-Sensor Research, Walter Reed Army Institute of Research. This project, popularly known as the US Army Superdog project, was begun in 1968 to genetically improve the military working dog. For 3 years, Leighton worked to make sense of the data accumulated on hip quality on several thousand German Shepherd puppies being born at the rate of about 400 per year.

After completing graduate school, Dr. Leighton worked for 10 years in academia, first at New Mexico State, then at University of Maryland where he was research leader for the Wye Angus herd of beef cattle owned by the University. In 1977, Dr. Leighton began consulting for The Seeing Eye in Morristown, New Jersey, providing them with advice and direction on overall management of their canine breeding colony, which then was producing about 250 puppies per year. In 1980, The Seeing Eye asked Dr. Leighton to write a new breeding plan for them with the stated goals of reducing or eliminating hip dysplasia as a cause for release while also selecting for sound overall health and an improved ability to be trained for working as guide dogs for blind people. In 1994, Dr. Leighton was asked to assume complete control and management over The Seeing Eye's breeding program and in 1995, he was hired as a full-time employee. After 20 years of managing the selection of young dogs to be kept for breeding and defining the protocols for determining how mating decisions were to be made, Dr. Leighton retired from The Seeing Eye at the end of 2015.

After doing "retirement" for a few months, Dr. Leighton started Canine Genetic Services (CGS), a privately-owned consulting and data analysis company. CGS now provides advice and direction to working dog organizations who wish to use modern animal breeding principles to genetically improve the puppies born into their breeding colonies. He is also one of 3 developers creating the International Working Dog Registry (IWDR). At present, CGS is the company providing the owners of IWDR with computer maintenance and support services, along with supplying IWDR users with data importation and data clean-up services, as various working dog organizations begin moving their data into IWDR..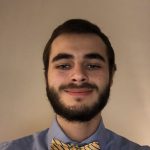 Samuel A.C Leighton (CGS, LLC; Web Developer and Technical Support)
Samuel A.C Leighton is 19 years old and son of Eldin A. Leighton. He graduated Langley High School in June of 2017 with his main focus on computer technology and programming courses. After High School he got a job a small tech repair place named Vienna Tech Help then moved to California to pursue his dreams in computer engineering. He has been proficient with computers since a young age when his father first introduced him to building his own computers. Since then he has always been trying to help his dad with any sort of technological problem around the house and was a top employee at Vienna Tech Help. He helped with various sorts of things which all accumulated the knowledge that he has today, such as: creating email servers, building & diagnosing personal/custom computers, and web development.

Samuel has created and diagnosed numerous computers and/or servers since his introduction to them. He has developed 3 email servers for his father and himself, all of which were personal hand built servers that had been assembled into dedicated email servers. He has built and maintained many various computers including machines for business, friends, family, and himself. These ranged from servers for business, personal computers, computers that needed repairs (i.e customer laptops or desktops), cellphones, and even raspberry pie environments. Lately, Sam has become involved with his father at CGS LLC developing websites for his company and maintaining his business related servers. All website development is done via the WordPress environment on hosted servers. Sam has solid knowledge regarding various computer programming languages, such as: python, C++, Objective-C, Java, JavaScript, HTML, CSS, and Visual Basic; however, Java is his expertise and the full-stack area has become his latest and greatest project.